China is famous or notorious for its State-Owned Enterprise economy. There used to be over 150,000, now the whittled down list:
Bank of China
Bank of Communications
Baotou Steel
Beijing Capital International Airport Company Limited
Beijing Enterprises
Beijing Hualian Group
Beijing North Star
Beijing Urban Construction Investment Development
Beijing Yanjing Brewery
Chang'an Automobile Group
Changchun Film Group Corporation
Changchun Railway Vehicles
Changjiang Securities
Chengzhi Co., Ltd
Chery
Chihong Zinc and Germanium
China Agri-Industries Holdings
China Aviation Supplies Import and Export Group Corporation
China Central Television
China Coal Energy Company
China Communications Services Corporation
China Construction Bank
China Construction Design International
China Energy Conservation Investment Corporation
China Foods Limited
China Guangfa Bank
China International Marine Containers
China International Water & Electric Corporation
China Investment Corporation
China Life Insurance Company
China Machinery Engineering Corporation
China Merchants Bank
China Merchants Energy Shipping
China National Aviation Corporation China National Building Material Company
China Netcom
China Overseas Land and Investment Limited
China Poly Group Corporation
China Precision Machinery Import-Export Corporation
China Taiping
China Tietong
China Travel International Investment Hong Kong
Chunlan Group
Complant
CSG Holding
Dalian Port (PDA) Company Datang International Power Generation Company Datang Telecom Denway MotorsFinancial Street Holding
Flying Pigeon
Founder Group
Founder Technology
Franshion Properties
Fushun Mining Group
Fushun Petrochemical Company
GAC Group
Great Wall Wine
Guangdong Investment
Guangdong Rising Asset Management
Guangzhou Automobile Industry Group
Guangzhou Shipyard International
Guangzhou Zhujiang Brewery Group
Guosen Securities
GZI Transport
Haier
Hainan Airlines
Haitong Securities
Harbin Aircraft Industry Group
Harbin Power Equipment
Hisense
Hu Qing Yu Tang
Hua Xia Bank Huadian Power International
Huaneng Power International
Hunan Nonferrous Metals
Hunan Valin Steel
Industrial and Commercial Bank of China
Industrial Bank
IRICO
Jiangsu Expressway Company
Jiangxi Copper
Jilin Aodong Medicine
Jinchuan Group
Jinjiang International
Jizhong Energy
Kingway Brewery
Kunlun Energy
Kweichow Moutai Company
Legend Holdings
Liaoning Chengda
Long March Launch Vehicle Technology
Longyuan Power
Luoyang Glass
Luzhou Laojiao
Maanshan Iron and Steel Company
Magang (Group) Holding Company
Minerals and Metals Group
Ming An Holdings
Minmetals Development
Ng Fung Hong
Norinco
Panzhihua Iron and Steel
Panzhihua New Steel and Vanadium
People's Insurance Company of China
Phoenix (bicycles)
Poly Property
Poly Real Estate
Qinghai Salt Lake Potash
Road and Bridge Construction
SAIC Motor
Sanyuan Group
State Development & Investment Corporation
Shandong Energy
Shandong Gaosu Group
Shandong Steel
Shanghai Construction Group
Shanghai Electric
Shanghai Film Group Corporation
Shanghai Industrial Holdings
Shanghai International Group
Shanghai Oriental Pearl (Group)
Shanghai Petrochemical
Shanghai Pudong Development Bank
Shanghai Pudong International Airport
Shenergy Group
Shenhua Group
Shenzhen Energy Shenzhen International Holdings
Shenzhen Investment
Sichuan AirlinesSichuan Lantian Helicopter Company LimitedSino-Ocean Land
Sinofert Holdings
Sinohydro
Sinoma
Sinotrans
Sinotrans Shipping
Sinotruk (Hong Kong)SVA Group
Tianjin Development
Tianjin Port Development
Tianjin Port Holdings
Tongling Nonferrous Metals
Tongrentang
Tsinghua Tongfang Company
Weichai Power
WIETC
Wuliangye Yibin
XD Group
Xi'an Aircraft Industrial Corporation
Xi'an Aircraft International Corporation
Xinhua Bookstore
Xinjiang Chalkis Co.Ltd
Xinjiang Production and Construction Corps
Xinjiang Xinxin Mining Industry Company
Yankuang Group
Yanzhou Coal Mining Company
Coal fired power plants and factories create 80% of China's air pollution, making life shorter for city dwellers. The United States has turned agriculture into an equally polluting State-Owned Enterprise through subsidies, industrialized farming and unregulated soil degradation. China pumps Carbon into the sky while the US has flushed 75% of the Carbon content of our topsoil out to sea.
Six Reasons to Repeal Farm Subsidies
1. Farm Subsidies Redistribute Wealth: the 90% poor farmer gets poorer while the 10% rich farmer gets richer. At $200 per acre the corporate farms which can own a half dozen former family farms reap the benefits of top management in the State-Owned Enterprise
2. Farm Subsidies Damage the Economy: In 2006 the Congressional Budget Office (CBO) found that all the studies they reviewed showed that both the U.S. and global economies would gain from the repeal of subsidies and trade barriers.  
Ted Turner (on the right) is the largest landowner outside of the Federal Government and because he raises free-range buffalo he is entitled to soil conservation subsidies of $150/acre.
3. Farm Programs Are Prone to Scandal: Perhaps the biggest scandal is that congressional agriculture committees are loaded with members who are active farmers and farmland owners. Those members have a direct financial stake whenever Congress votes to increase subsidies, which is an obvious conflict of interest.
4. Farm Subsidies Damage U.S. Trade Relations: The World Trade Organization estimates that even a one-third drop in all tariffs around the world would boost global output by $686 billion, including $164 billion for the United States. Worse developing and under-developed countries cannot compete fairly with industrialized nations dump their corn, cotton, soy and wheat.
5. Farm Programs Damage the Environment: Farming, like any industry, can cause negative environmental effects, but it is misguided for federal policies to exacerbate those problems.
6. Agriculture Would Thrive without Subsidies: If farm subsidies were ended, and agriculture markets deregulated and open to entrepreneurs, farming would change just as it did in New Zealand.
The Hillary Archipelago voters have their own urban socio-economic problems because State-Owned Enterprise Farming has destroyed Agriculture the sole source of wealth and revenue of every nation.
Factory farming wastes resources, requiring vast inputs but giving relatively little food energy in return.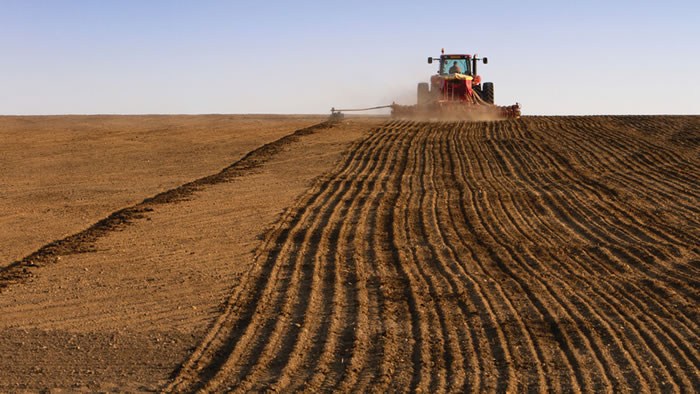 High resource use
Because so much feed is used for factory farming, a large amount of other resources are needed to grow it. One of these is land, much more of which is needed to produce meat or dairy products than to produce vegetables, cereals or fruit18. And then there's water, which is often used to irrigate the crops, particularly when they are grown in countries which have lower levels of rainfall. According to the WWF19, livestock production accounts for around 23% of all water used in agriculture – equivalent to more than 275 gallons per person per day, where a family of four uses an average of 30 gallons a day. A lot of energy is needed too, in particular for the manufacture of synthetic fertilizer and pesticide to grow feed crops20. Furthermore, these pesticides and fertilizers require large volumes of valuable resources such as nitrogen and phosphorus. Many of these resources could be put to better use, helping us to grow enough crops for the current world population, for example.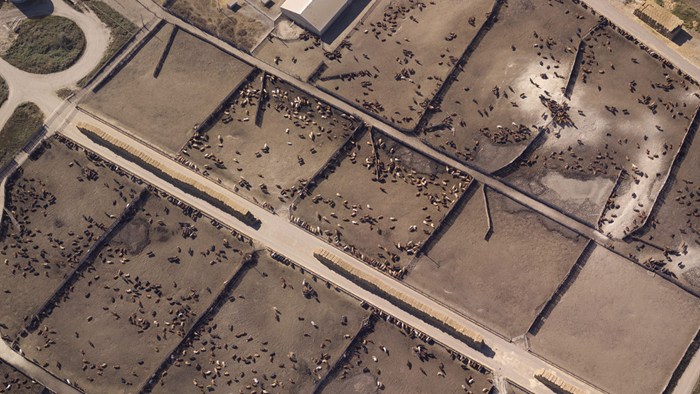 Ranchers buy 'stockers' (weaned calves), at auction and raise them on pasture to 800 lbs. The cattle are then sold to the feed lots, fed grain and grass hay to slaughter weight of 1,200 pounds. Live cattle futures for December 2016 reached $114.75 per hundred weight or $459 gross revenue for each cow that completed their four month stay. Sounds pretty good until you add up the 120 day feed bill for those bovines.  The hungry ruminant consumes 30 pounds of fodder times 120 days equates to going broke:
"For cattle placed weighing 750 pounds or more, the average return has been a loss of $110 per head."
Livestock Marketing Specialist, Utah State University
The industry regularly asserts that cramming large numbers of animals into factory farms and pushing them to extreme levels of productivity is efficient. But this couldn't be further from the truth: industrial-livestock production, which relies on huge volumes of human-edible crops for animal feed, is inherently inefficient.
It's thought that for every 100 calories we feed to factory-farmed livestock, we only get 40 calories back in the form of milk, 22 back in the form of eggs, 12 back in the form of chicken meat, 10 in the form of pork and 3 in the form of beef.
But the wastage doesn't stop there. Growing these crops to feed the animals uses up vital land, water and energy, and has led to the intensification of crop production with the use of chemical-soaked monocultures. The result is poor soil quality, as well as more pollution, carbon emissions, deforestation and biodiversity loss.