YOU ARE IN THE 'MOST BLESSED' POSITION THIS YEAR
Your Birth Card falls in a very auspicious position this year, the spot in the very center of the Grand Solar Spread known as the 'Most Blessed' position. This position has what we call a 'double Jupiter' influence. Because of the fortunate effects of Jupiter, you are absolutely going to receive a tremendous blessing this year. In effect, you will receive the thing that you want most in life. However, this will be the thing that you truly want in your heart, not just some fanciful wish that your mind plays with at times. Whatever you wish for most and that thing that will bring you the most true happiness will come to you this year. Therefore, this is a very auspicious year for you and one that marks the end of a long cycle in your life.
DID I MISS MY JACK OF CLUBS 59TH 'BLESSED' YEAR?
THE MOST IMPORTANT CARD OF THE YEAR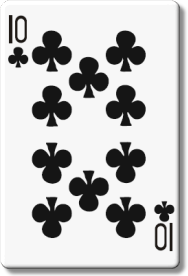 The Ten of Clubs as the Long Range Card
The Ten of Clubs can bring measurable success and recognition in one of the mind-related fields or endeavors. This could be publishing or teaching or other areas where large groups are benefiting from your talent and brilliance.
"A year of mental accomplishment and having a lot of ideas. I share my knowledge with a large number of people."
I became aware of the power of Toastmasters at the end of my FIRST LIFE: ARCHITECT where I was transitioning to peddling $5 psych tests. My boss sent me off to Houston's 'Heights' Toastmasters to learn how to give a 45 second self intro.
In 2001, Shelby Ann Brown put my SECOND LIFE: GOAT FARMER talk into less talk and more walk, by buying an 18 acre farm to raise Fullblood Black Boer Goats.
Cute little buggers they are but at $500 bucks each, they are a challenge to sell. The analagoatcompany.com grossed $500 in '99 and another barn burner $500 in 2000. Shelby Ann is trucking off to her systems analyst day job to keep her " Five Acres and Independence" dream afloat, while I pastor the herd between alternate readings of Adam Smith and "A Course in Miracles."
Definitely a fake it till you make it marketing strategy or if you want to learn something teach it. And best of all it worked. So, yes Virginia, Astrology is Real and I know from past experience that Jane Marie Kennedy in my THIRD LIFE: FORTUNE TELLER is going to have a very Blessed 59th year.